Brisbane's 4ZZZ winds back the clock to 1975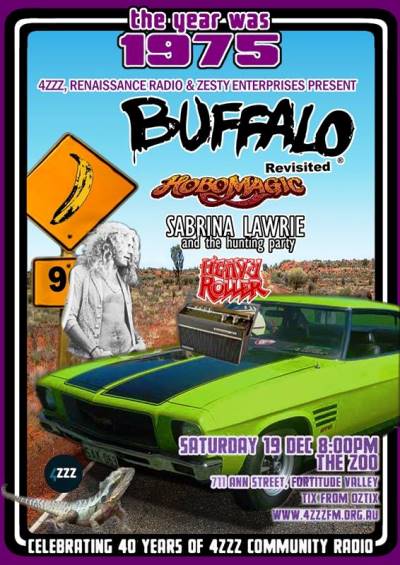 The Year Was 1975... Platform shoes, hot pants, flares and long hair were the height of fashion, HJ Holdens were selling like hotcakes, and a little community radio station by the name of 4ZZZ was born in Brisbane....
Seminal Brisbane radio station 4ZZZ FM turns 40 this December and to celebrate they're hosting a month-long party! One such shindig will be held at iconic Brisbane live music venue The Zoo on Saturday December 19th and will feature a revised version of ground-breaking Australian rock band, Buffalo.
Frontman Dave Tice has frequently been dubbed The Godfather of Australian Stoner Rock for his work with ultra-heavy '70s band Buffalo and he's now re-visiting his revered outfit's legacy with a series of select shows.

Tice has assembled a new line-up under the banner 'Buffalo Revisited' to focus on the earliest of the original band's five albums. Tice will be joined by Vince Cuscuna (guitar), Steve Lorkin (bass) and Murray Shepherd (drums). All of them are veterans of a host of underground Sydney bands.
Buffalo formed in Sydney in 1971. Largely unrecognized by commercial radio, Buffalo was one of the country's first exponents of the style heavy metal, pre-dating other pioneering Australian hard rock and heavy metal acts, such as Coloured Balls, AC/DC, The Angels, Taste and Rose Tattoo.
Like many pioneering heavy metal acts, Buffalo incorporated strong influences of bluesrock and psychedelia. The band's sound paralleled that of Black Sabbath, who they supported on their first Australian tour. Buffalo's first three LPs, "Dead Forever", "Volcanic Rock" and "Only Want You For Your Body", are now true classics with original copies commanding hundreds of dollars.
Buffalo Revisited will be supported by celebrated local acts Hobo Magic, Heavy Roller, and Sabrina Lawie & The Hunting Party. Tickets are available here.
Buffalo revisited plays the Bald Faced Stag in Sydney on November 27. Tickets are here.
Tags: brisbane, live, 4zzz-fm, buffalo revisited