Details

By

The Barman

The Barman
Country legend Chad Morgan to share a stage with his biggest fans The Johnnys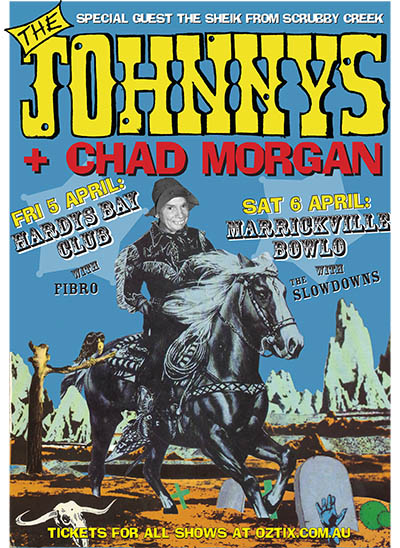 Rock and roll cowpunks The Johnnys are proud to be sharing a stage for two special shows with a true Australian country music legend, Chad Morgan, in April.
The Johnnys will perform with Chad Morgan at the Hardys Bay Club on the NSW Central Coast on Friday, April 5 and Marrickville Bowling Club in Sydney on Saturday, April 6.
Chad Morgan, 86, has been performing to generations of Australian music and comedy fans for more than 50 years. Dubbed "The Sheikh of Scrubby Creek" after one of his most popular songs, Chad released his first album in 1952.
He is renowned for his vaudeville style of comic country and western songs, and goofy stage persona. Chad is the ultimate comic of Australian country music and is instantly recognisable for his unique trademark – those teeth!
A platinum and gold record artist, Chad has an enormous and devoted following and is constantly touring the country, performing songs such as "I'm My Own Grandpa", "The Shotgun Wedding", "Double Decker Blowflies" and "There's Life In The Old Dog Yet".
Tex Morton once described Chad as the only original country music artist in Australia. Slim Dusty called him the crown prince of comedy. When Gordon Parsons came up with "The Pub With No Beer", Chad's the bloke who wrote the words down and contributed a verse of his own.
Chad and The Johnnys go back 30 years. Guitarist Slim Doherty said: "Chad Morgan played a few shows with us in Sydney many moons ago and loved us as we did him.
"He has a cameo in our 'Buzzsaw Baby' film-clip and it is an honour to have shared the screen with this legend. I have an Eko Electric guitar Chad 'signed' with his pocketknife which I still treasure immensely."
The Johnnys are Slim Doherty, bassist Graham Hood and drummer Billy Pommer Jr and they will be coming fresh off a national you're with The Beasts. These shows will be a unique pairing and will sell out so don't delay. Pre-sales tickets are available here.