Damien Lovelock's wonderful life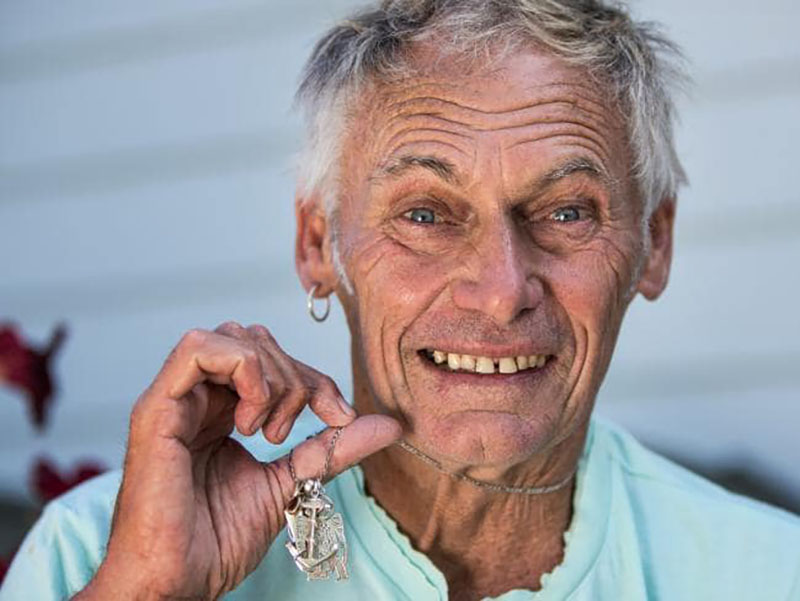 From the Celibate Rifles Facebook.
I went to a Catholic boarding school, and that sort of team spirit thing and having the right attitude to what you do was drummed into you from day one. And I viewed any group enterprise the same way, life's too short for bickering and bullshit. If there's something you want to do, let's get to doing it. You can have fun on the way. but I used to watch most bands and it seemed that it was more a part of a look.
As soon as I met the Rifles I thought OK, there's something here. There's an energy and... there's something that sets them apart from a lot of the other bands. And that, nothing lasts forever. If you don't look after it it'll just dissipate and go. So yeah, I got into that. - Damien Lovelock in conversation with Earl O'Neill.
The magnitude of yesterday's passing of Celibate Rifles frontman Damien Lovelock at the age of 65 is still sinking in. Lovelock died at his Sydney home after a protracted fight against cancer - a battle that was known to many but largely kept private out of respect for the man.
Damien Lovelock was one of the most articulate, witty and forthright figures to spring from the Australian underground music scene in the 1980s. His laconic drawl was a trademark element of the sound of the Rifles, perhaps Sydney's ultimate anti-star complex band. As promoter and longtime Damo friend Tim Pittman remarked: "He was a unique human".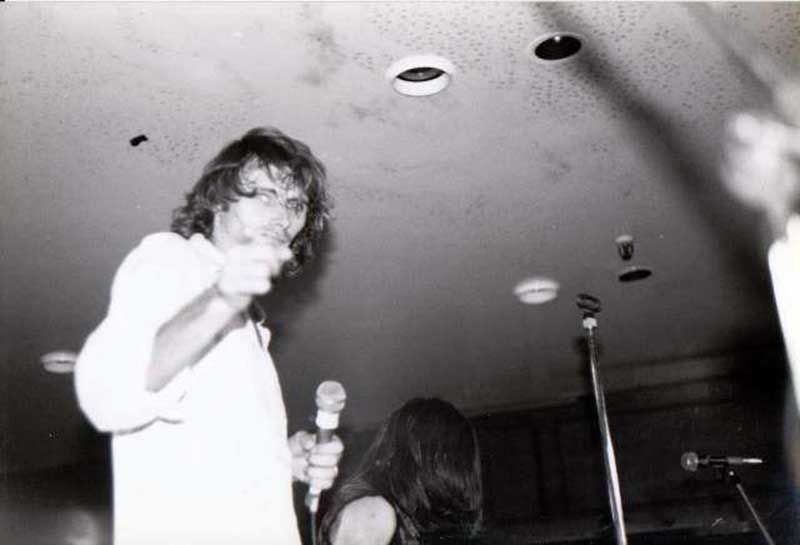 In action at the Sydney Cove Tavern. Joan Cootes photo.
Damo, as he was known to countless people whose lives he touched, was that rare breed of underground musician whose media profile crossed over into the mainstream, unencumbered by worries about what people may think. A yoga teacher of renown, cookbook author, TV soccer commentator and spoken word raconteur, his loss is on a par with that of that of Spencer P Jones was to Melbourne.
Damien Lovelock grew up in the Bohemian inner-city Sydney of the early-'70s. An only child, he grew up on jazz and walked on Sydney's wild side for a time, embracing drugs before kicking the habit and completing a media studies degree at a nascent University (then Institute) of Technology. His stories about a steamy, corrupt Askin-era Sydney populated by smalltime crims, crooked greyhound bookies and drug-dealers could, and should have, filled a book.
Absorbing his share of high-energy rock and roll, in 1982 Damien landed the job as lead singer for an unlikely bunch of teenagers from Sydney's Northern Beaches - in spite of being almost a decade older than his bandmates.
By the time Lovelock signed on, the Celibate Rifles had already embraced the Radio Birdman-fuelled Detroit sound that dominated Sydney back then. The Rifles were different. They laced their version with socially and politically conscious lyrics, suburban humour and a sense that they were there to take the piss out of inner-city tastemakers, not kiss their arses. Damien gave them an acerbic, world view.
Lyrically, their songs addressed rainforest depletion, geopolitics, sharpie gang culture, smack, the Irish troubles, peer pressure, media diversity and the political status of Tibet. Not bad for a band that self deprecatingly embraced the label "a typical bunch of blokes" that the media bestowed after one of their lyrics.
Musically, Rifles sets were invariably peppered by one or two dodgy cover versions. "Theme from Gilligan's Island", anyone? In a scene where black was often less a clothing colour choice than a way of life, the Rifles wore football jumpers and day-glo tights, sticking out their collective tongues at po-faced Darlinghurst dilettantes.
Damien's songwriting partnership with guitarist Kent Steadman was enduring and very special. They were a straight-edge Sydney version of the Glimmer Twins. The Rifles were more than two people, however.. A sun of their diverse parts. You can tell when a band like that locks in together. Rhythm guitarist Dave Morris was their secret weapon - their glue. Watching them all interact, with Damien's pumping leg and toothy grin as they hit the sweet spot on a tearaway like "Electricvision Mantra" was a rare pleasure.
.
Eleven studio albums, four live LPs and a string of singles and EPs are testament to how great the Rlifles were and their musical influence spread and far as Europe, the USA and South America. Two excellent solo albums )"It's a Wig Wig Wig Wig World" and "Fishgrass"), with a floating cast called Wigworld, showed there was widescreen breadth to Damien's musical tastes. The side project, No Dance, with Brett Myers of Died pretty and Louis Tillett of the Wet Taxis and solo fame, would have told you that.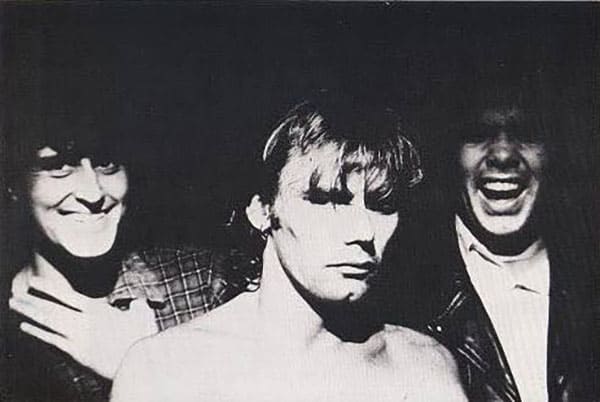 No Dance.
An aside: I was lucky enough to work with the Rifles a couple of times on shows. Late last year, I was talking to Damien about booking shows for a revived version of Wigworld. His ill-health ultimately put paid to that.
I'll dine out endlessly on the fact I was at CBGB the night they recorded their live album, "Kiss Kiss Bang Bang". I didn't know any of them in 1986; I was just a fan and expat tourist doing the backpacker thing in the US before hitting Europe, There had been a pre-show session of Rolling Rocks with Sticks (drums) and Mikey (bass), As the clocked ticked towards the business end of the night, I was expelled from what passed as the CBGB dressing room by an imperious Lovelock gaze and a nod of the head. No problemo!
Along with a room packed to overflow, I was treated to a blistering set and spent most of the night needlessly blabbering to any American punter who'd listen about how great the Rifles were. Pointless, really. It was their second visit to the legendary venue - they'd pulled 50 or so the first gig but apparently most of them knew all the words and sang along - and I was preaching to the converted.
Me and a hundred well-wishers retired to the shell of a wrecked car in a packed yard behind the venue afterwards. (There's an iconic photo of Top Ten from the Dictators lying across its bonnet.) I was so buzzed by the show that I scarcely noticed the street people crashed out on the sidewalk of what was still a seedy Bowery as I hailed a cab after eventually leaving about 4am. So I was there and you probably weren't - but didn't the gig translate well to record?
"A typical bunch of blokes."
More recently, Damien had been singing sporadically with tributes to Lou Reed and David Bowie. Celibate Rifles shows have been too far and few between. A short burst of shows in 2017 were among some of the best I'd ever seen from them. A 2018 Marrickville Bowling Club gig was right up there too and coincided with the release of a live CD, which drew mixed opinions from band members but was quirky enough to hold up in its own right. And right here you can read the first chapter of what would have been a great book about the Rifles, by Earl O'Neill.
Nothing stands still. Damien's gone, survived by his son Luke and many friends. It's been a Wonderful Life. We're all lucky to have been even a small part of it.




.
Tags: celibate rifles, damien lovelock, vale