Europe-first release for new Penny Ikinger CD single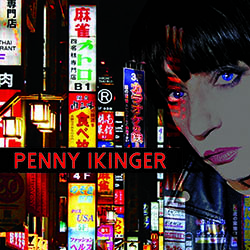 She's been called "fuzz queen, sonic chanteuse and primal mistress of dark folk" and Europe is getting a brief opportunity to come up with more superlatives for Melbourne's Penny Ikinger and her unique brand of rock and roll this Northern summer.
Penny is promoting a CD single "Gin No Suzu" b/w "Ride On Cowboy" (that's the cover art at right), from her forthcoming album with a short series of dates in Spain and France, the peak of which will be appearances at Andoaingo Rock Jaialdia in Spain (June 17) and as part of Fete de la Musique at Petit Garage in Paris, France (June 21.)
She's being backed by Dimi Dero (drums) and Vinz Guilluy (bass), the engine room for Rob Younger's Bad Music, Ron Peno & the Superstitions, Kim Salmon, Mick Harvey, Deniz Tek, Warren Ellis and Burn in Hell. Australian rock legend Johnny Casino will join them on guitar in Spain.
The follow-up record to "Electra" and "Penelope" was recorded at Studio Life in Tokyo, Japan. Radio Birdman guitarist Deniz Tek co-composed the songs on the single release and plays on "Gin No Suzu". The music was produced with icons from the Japanese psychedelic scene - Masami Kawaguchi (guitar), Louise Inage (bass) and Keiichi Sakai (drums).
You'll be able to buy the CD single on tour and via her webiste.
Tags: penny ikinger, wet taxis, radio birdman