Ex-Cramp Kid Congo back with new album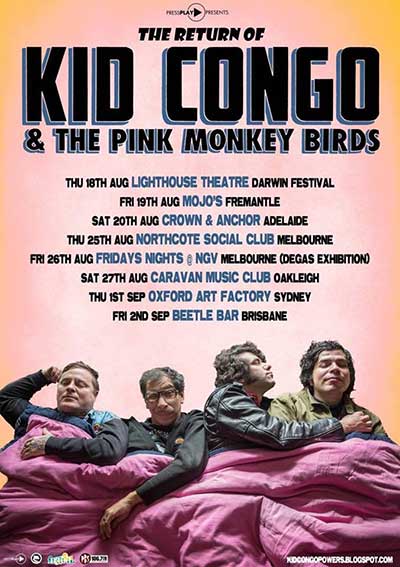 Packing their fourth and probably strongest album so far, Kid Congo & The Pink Monkey Birds are heading back to Australia in August.
"La Araña Es La Vida" summons the Mexican muse of The Great Spider Goddess of Teoticuhan, who sprouts hallucinogenic morning glories and protects the underworld, or in Kid's eyes, the world of underground music.
Recorded at The Harveyville High School gym in Kansas by guitarist-vocalist Kid Congo Powers (The Gun Club, The Cramps, Nick Cave and The Bad Seeds), bassist Kiki Solis (Baby Baby Dance With Me, Knife in The Water, Rhythm of Black Lines), drummer Ron Miller (Switch Hitter, Up The Academy) are joined by Chicano, Mosrite playing guitarist Mark Cisneros (Medications, Deathfix), it's on In The Red Records.
Kid Congo and his band toured Australia to rapturous reviews in January 2016. The extensive tour just seven months later covers five states and the Northern Territory.
KID CONGO & THE PINK MONKEY BIRDS AUSTRALIAN TOUR
THURS 18 AUG - Lighthouse Theatre, Darwin Festival, NT
FRI 19 AUG - Mojo's, Fremantle, WA
SAT 20 AUG - Crown & Anchor, Adelaide, SA
WED 24 AUG - The Bridge Hotel, Castlemain, VIC
THURS 25 AUG - Northcote Social Club, Melbourne, VIC
FRI 26 AUG - Friday Nights @ NGV, Melbourne VIC
SAT 27 AUG - Caravan Music Club, Oakleigh, VIC
THURS 1 SEPT - Oxford Art Factory, Sydney, NSW
FRI 2 SEPT - The Triffid, Brisbane, QLD - Tickets
Tags: australia, cramps, tour, kid congo powers, gun club, the pink monkey birds