Ex-Sacred Cowboys leader heads for Sydney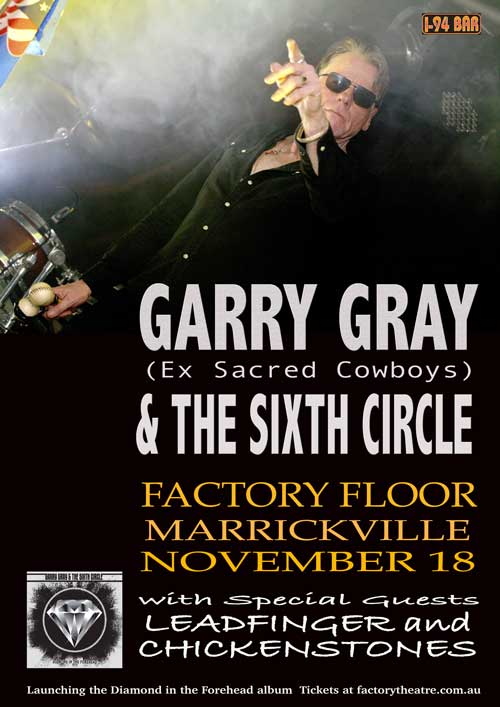 One of Australian rock roll's few truly dangerous frontmen, Garry Gray (ex-Sacred Cowboys), is making a rare Sydney appearance with his crack band The Sixth Circle on November 18, presented by the I-94 Bar.
Garry Gray and The Sixth Circle are playing The Factory Floor in Marrickville with soulful rock soldiers Leadinger and street-level Northern Beaches rockers Chickenstones.
Melbourne-based Gray is a true survivor and legend of the Australian underground music scene. As crazed, chainsaw-wielding frontman for the Sacred Cowboys, he and his bandmates left a legacy of five studio albums and trademark singles, "Nothing Grows In Texas" and "Hell Sucks".
Blasted by Molly Meldrum on Countdown as the worst band he'd seen in five years, Sacred Cowboys wore the insult as a badge of honour. They disrupted and devastated Australian audiences in the '80s and late '90s with line-ups that included members of Beasts of Bourbon, The Models, Wet Taxis , Paul Kelly and The Dots and JAB.
Gray last convened the band 10 years ago before returning to Europe where he had been living,
He's back with a new band and a new album, "Diamond In The Forehead", on Off The Hip Records and this will be his first trip to Sydney to play in 10 years.
Backed by all all-star band in expat German Tex Napalm (guitar), Chris Taranto (guitar), Angela Howard (bass) and Graheme Ward (drums), Gray remains one of the most engaging and magnetic frontmen in rock.
Tickets for the gig will go on sale on the Factory Floor website next week.
Tags: live, sydney, chickenstones, garry gray, sixth circle, leadnger