Leadfinger hits Europe for October tour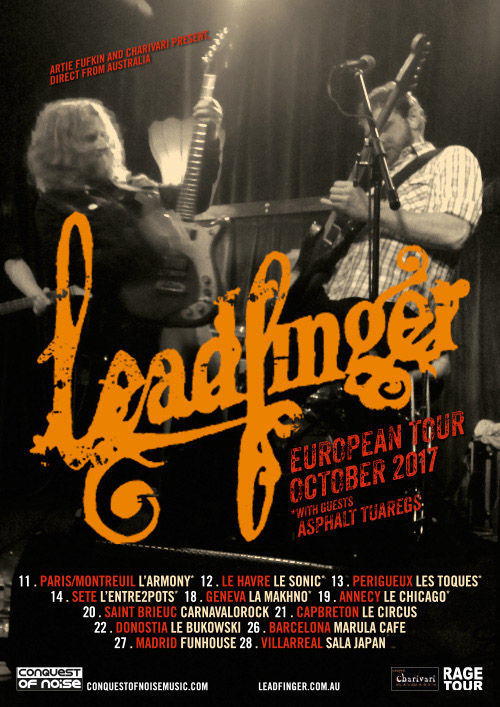 After almost a decade of hanging around the fringes of the Australian music business, Leadfinger are making their first trip to Europe to play a run of gigs this October.
The tour kicks off in Paris before zig zaging across France with support from locals Asphalt Touregs, who feature former Fixed Up singer/guitarist Francois Lebas.
After a layover in Switzerland to play Geneva and a spot of recording in southern Spain, the tour ends with a couple of gigs in Barcelona and Madrid with fellow Aussies, James McCann and the New Vindictives.
Leadfinger is one the best underground rock'n'roll bands in Australia right now.
Since forming in 2007, they have released five albums through various labels, including Spain's Bang! Records and Australia's Citadel Records.
The most recent Leadfinger album, "Friday Night Heroes" - out through Conquest of Noise Records - was met with high praise as their best yet.
Leadfinger is led by fguitarist Stewart 'Leadfinger' Cunningham who paid his dues and more in some great Australian underground guitar bands over the last 20 years, including The Proton Energy Pills, Asteroid B-612, Brother Brick, The Yes Men and Challenger-7.
With a sound that is heavily influenced by '70s guitar rock (Thin Lizzy, The Faces, Rory Gallagher and the great Sonic's Rendezvous Band to name a few) Leadfinger has built a reputation for dynamic, twin-guitar rock and heart-on-sleeve quality songs. They mine the deep seam of rock'n'roll, back through the '80s underground, '70s rock and punk eras to the '60s and beyond.

Their timeless songwriting and soulful deliver have won them many them pleny of Australian fans…real music fans of Europe are next in their sights.
Leadfinger European Tour October 2017
Wed 11th - Paris/Montreuil - L'armony
Friday 13th - Perigueux - Les Toques
Sat 14th - Angoulme - Le Mars
Sun 15th - La Sauvetat-de-Saveres - Le Cafe Des Voyageur
Tues 17th - Saint Etienne - Thunderbird Lounge
Wed 18th - Geneva - La Makhno
Thurs 19th Annecy - Le Chicago
Fri 20th - Saint Brieuc - Carnavalorock Festival
Sat 21st - Capbreton - Le Circus
Sun 22nd - Donostia - Le Bukowski
Thurs 26th - Barcelona - Marula Cafe
Fri 27th - Madrid - Fun House
Fri 28th - Villarreal - Sala Japan Rock Club
Tags: leadfinger, tour, european, fixed up