Details

By

The Barman

The Barman
Perth really is a culture shock as The Victims announce their last show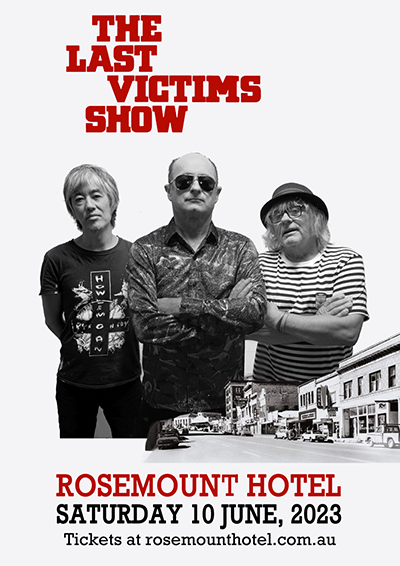 West Australian punk rock trailblazers The Victims play their final show at Perth's Rosemont Hotel on June 10.
Original members Dave Faulkner, James Baker and contemporary recruit Ray Ahn are also preparing to release the line-up's last recording, made with the legendary Ed Stasium (Ramones) behind the desk.
Formed in May 1977 by Baker (The Geeks, The Scientists, The Painkillers, The Rockin Hendy, Hoodoo Gurus, Beasts of Bourbon, The Dubrovniks), and Dave Flick aka Faulker (Hoodoo Gurus, The Manikins, Midget and The Farrellys, Antenna) with original bassist Dave Cardwell, the band's best known for its sizzling debut single "Television Addict b/w I'm Flipped Out Over You", which has been covered by You Am I, The Hellacopters and Teengenerate.

In August 1978, The Victims released a five-track extended play, The Victims (also known as "No Thanks to the Human Turd"), with: "I Understand", "Open Your Eyes", "TV Freak", "High School Girls" and "Disco Junkies". A compilation album, All Loud on the Western Front" (1989), "Sleeping Dogs Lie" (2011) and "Culture Shock" (2014) have followed.
2019's "Horror Smash" EP was recorded by the Faulkner-Baker-Ahn line-up and was a suberb addition to the catalogue.
Supports will be The Shakeys and The Volcanics and tickets are here.