"Portraits, Punks & Pits" lifts the lid on 25 years behind the lens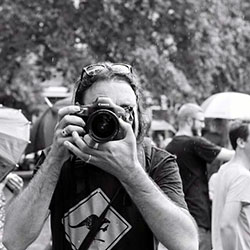 Rod Hunt is a passionate sharp shooting Sydney music photographer and has been perfecting his craft for more than 25 years. Now an accomplished and sought-after snapper, he has many published works and awards under his belt.
Hunt's upcoming exhibition, "Rod Hunt: Portraits, Pits & Punks" draws on his extensive catalogue of work for his first major solo show taking place from February 16-26 at Chrissie Cotter Gallery in Camperdown, Sydney. Legendary Australian music photographer Tony Mott will be guest speaker on opening evening.
As a teen, Rod frequented his local music venues, shooting punk outfits such as Hard-Ons, Massappeal and the Hellmenn, at places like Sutherland Royal Hotel and Penshurst Den, the Lansdowne, the Journo's Club, the Hopetoun and the Evil Star.
"I noticed that hardly anyone was taking photos of these bands and initially I simply wanted to document them," he explains. "That grew into wanting to try to capture the energy and excitement that I felt when I was watching them play.
"This was pre-digital photography, so it was less common to see people at gigs with cameras. That's still a big part of what drives me - trying to capture the energy, excitement, action, personality and mood of a live performance in a still image; I still find it challenging every time I shoot a band."
Hunt's impressive catalogue has been featured in the bulk of key music publications including Kerrang! (Australia and UK), Terrorizer (UK), Metal Hammer (UK), Rolling Stone (Australia), Australian Guitar, Jmag, Kerrang! and Blunt. He was the major photographer at Drum Media (now The Music) for many years and now holds that title at Unbelievably Bad magazine.
Rod has done photo shoots with many high profile artists, including Against Me, Alexisonfire, Andrew WK, Avenged Sevenfold, Courtney Taylor-Taylor (The Dandy Warhols), Corey Taylor (Slipknot, Stone Sour), Dave Mustaine (Megadeth), Fallout Boy, Joel and Benji Madden, Josh Homme (Queens Of The Stone Age), Killswitch Engage, My Chemical Romance, Opeth, Parkway Drive, Slayer, The Bronx, The Dillinger Escape Plan, The Used, Violent Soho and many more.
He has photographed all of Australia's major music festivals on numerous occasions – the Big Day Out, Soundwave, Homebake, Splendour in the Grass, Byron Bay Bluesfest, Dig It Up!, All Tomorrow's Parties, Golden Plains and Meredith Music Festival. Rod has also covered music festivals internationally, including Rebellion (England), Hellfest (France), With Full Force (Germany) and Wacken (Germany).
Don't miss 'Rod Hunt: Portraits, Pits & Punks' running for eight days only from 6pm on Thursday, February 16 until February 19, then again from Thursday, February 23 to Sunday, February 26. Chrissie Cotter Gallery is in Pidcock Street, Camperdown.
Tags: sydney, rod hunt, photographer, exhibition