R.I.P. Jim Atkins of The Kelpies, Bedhogs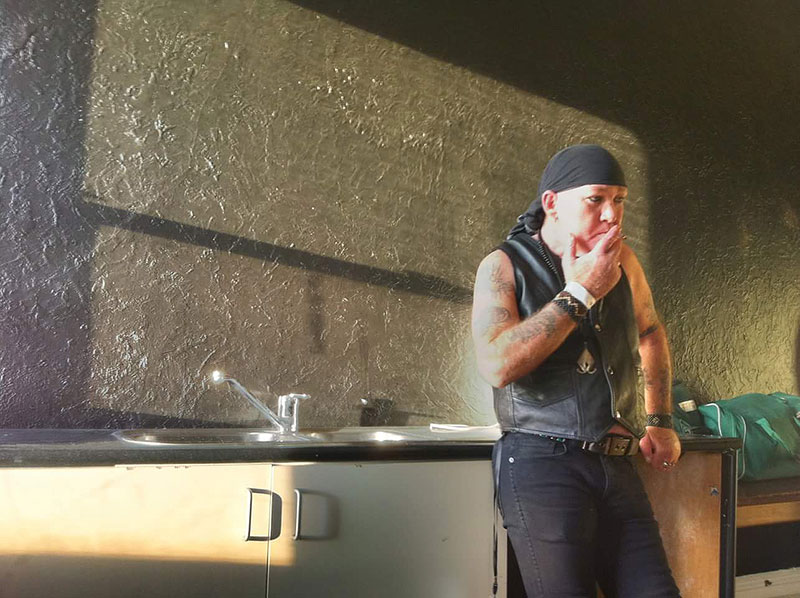 Ashley Thomson photo
Jim Atkins, singer in The Kelpies, The Bedhogs and other '80s Sydney punk bands, has passed away in a Darwin hospice after a long battle defying cancer. He was aged 56.
Friends posted news on Facebook a few days ago that Jim (aka Jim Bedhog aka James Gelding) was extremely unwell. News of his passing landed today and sparked a string of online tributes.
Photo via Kay Glass
Longtime friend Joy Cornish revealed: "Jim was first diagnosed with cancer when he was 16 or 17, he'd been surviving and beating the odds for almost 40 years. I've lost track of the number of times he was ill, the operations, the seemingly endless treatments. He really was a force of nature, a true wild colonial boy. Sleep well, Jimbo."
Kay Glass said: "I met Jim when I was 16 years old and he made an impact on me, the crazy antics of our youth and the proof that determination and belief that nothing could keep a good man down keep you going, defying the odds all through the later years. You gave it everything you had Jim and now its time to rest. Farewell Jim, you were the toughest guy I knew."
The Bedhogs and The Kelpies were leading lights on the turbulent Sydney punk scene. Phantom Records gave a home to The Kelpies and issued their single, the stunning "My Wall" b/w "Truro Murders". Drummer Ashley Thomson issued a posthumous collection of the band's recordings (long out of print) and The Kelpies reformed sporadically for shows in the '90s.
Jim took part in a rcording project with some of The Kelpies, called The Ghostmen, and the eponymous EP from that session, issued in 2007, showed he'd lost none of his punk attitude or lyrical power.
Tags: sydney, kelpies, sydney trade union club, bedhogs, jim atkins