Salmon's Surrealists return with eighth studio platter
Blues-punk legends Kim Salmon & The Surrealists are announcing their new album "Rantings From The Book Of Swamp'", set for release on September 4. "Rantings From The Book Of Swamp" will be the band's eighth studio album but the modus operandi remains the same - deconstruction and salvage.
It's being preceeded by a single, "Burn Down The Plantation", the proceeds of which will go to Stop Black Deaths In Custody.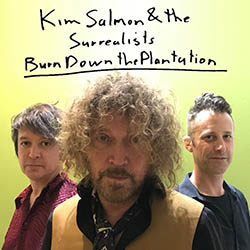 As a band with more than a fair amount of improvised content in their back catalogue, The Surrealists were only ever a step away from an entirely improvised album, made up with only what they could bring to a recording session.
The original idea was an improvised show before an audience. Plans quickly changed with the arrival of COVID-19 and the show was cancelled amidst venue shutdowns. But it was too good an idea to die quietly and in June 2020 the ante was upped to a worldwide live-streamed performance.
For lyrical content Kim referred to his sketchbooks, all entitled various volumes of "The Book Of Swamp", with the intention of fitting various sketched lyrics as vocals with whatever the band came up with musically.
The filmclip for "Burn Down The Plantation'"is completely live and "before the filming the song didn't really exist" says Salmon. "I came to the live stream session prepared with a bunch of loose lyrical sketches that I'd be able sing into whatever the band jammed up".
The result, a brand new double album from Kim Salmon & The Surrealists, for and of the COVID era.
Kim Salmon is no stranger to the Australian music scene; helping to kick off the punk scene and inventing grunge. Salmon has played in some of Australia's most pivotal punk rock bands including The Scientists, Beasts of Bourbon, and of course, The Surrealists.
Kim Salmon & The Surrealists began in Perth in 1987, deconstructing tunes like "Blue Velvet", "Je'taime Moi Non Plus" and playing their own off-kilter music with its bizarre time signatures and titles like "A Belly Full Of Slugs", "Intense" and "Bad Birth".
Making the move to Melbourne in the early 90s, Kim Salmon & The Surrealists are a "band's band", touring internationally with such luminaries as Nick Cave and the Bad Seeds, The Cramps, Jon Spencer Blues Explosion and even U2.
They recorded their most widely acclaimed album "Sin Factory'"in 1992 with genius producer Tony Cohen and their wildest tour de force of styles "Ya Gotta Let Me Do My Thing" in 1996 with blues, punk, folk anarchist legend Jim Dickinson in Memphis.
The line-up has changed over the years but has settled at Kim, Phil Collings and Stu Thomas since their last album, 2007's space, psych, jazz free form freak out "Grand Unifying Theory".
Tags: kim salmon, surrealists, rantings from the book of swamp