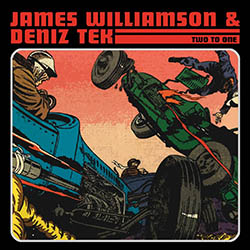 Williamson first took up with the Stooges in 1971 after the release of their second album, and was Iggy's partner-in-crime when David Bowie's management Mainman brought the band back to make one of the most iconic and influential albums of all-time, "Raw Power".
Ann Arbor native Tek had a lengthy family stay in Sydney in 1967. which precipitated his move to study medicine at the University of NSW at the age of 19 in 1972. Tek was introducing the Detroit high energy sound to Australia with a nascent Birdman in 1974 about the same time as the Stooges were falling apart.

The Williamson-Tek pairing has an emblematic significance that reflects the Stooges' influence on Radio Birdman, and in turn both bands' shared influence on a notable thread of Australian rock that has continued since the mid-'70s.
Radio Birdman's very name came from a (misheard) Stooges lyric, their first album was dedicated to the Stooges and it opened with a cover of the Stooges' "TV Eye". "Search & Destroy", the iconic anthem from the seminal Williamson-era Stooges album "Raw Power", was a live Birdman fave.
Countless bands that followed in Birdman's wake in Australia – from the Lipstick Killers to the Birthday Party, to the Hoodoo Gurus to the Celibate Rifles to Bored! – have cut their teeth on Stooges material.

The fact that the Stooges maintained a strong presence in the Australian musical psyche for decades, even before their early '00s resurgence and despite never having toured or been played here originally, is very much down to Birdman's efforts on their behalf.

It's not the first time that Deniz Tek has worked with a Stooges member. Having met Ron Asheton on a trip home during Birdman days (resulting in the Tek-Asheton Birdman co-write "Hit Them Again"), Tek enlisted Ron to play in the short-lived supergroup New Race in 1981, and subsequently employed Ron's brother Scott Asheton to play on and tour his first solo album in the early '90s.
Tek even stood in for Ron for a short set of Ron-era material in Ann Arbor when the Stooges played that memorial show after Ron's death.

It's not Tek's first project with Williamson: the pair released an EP of acoustic Stooges covers a couple of years back. But it is the first time that Williamson and Tek – a Stooge and a Birdman – have collaborated as partners on a full album of new original material.

Says Williamson: "It was really a lot of fun working with Deniz to make a no-frills, good old-fashioned guitar album. Took me back to 'Raw Power' and 'Kill City' days. Deniz comes from a very similar approach to music that I do, both of us have had many years of experience in Detroit and Ann Arbor, Michigan."

Tek adds: "'Raw Power' shaped my path as a young guitar player. It was great to partner up with James to make this album. Everything fell into place beyond expectations - the songs, the band, the production, and even the timing. I am very happy with it."

"Two To One" will be available on CD, digital and in your choice of red, blue, yellow or classic black vinyl.