Television Addicts record two songs and may tour

That almost-reunion we told you about of Perth punk pioneers The Victims is bearing fruit with a recording session preceding a one-off show.
Original members Dave Flick (aka Hoodoo Guru Dave Faulkner) and mercurial drummer James Baker were joined by Hard Ons bassist Ray Ahn for a gig at Perth's Rosemont Hotel on August 9, billed The Television Addicts. You can see some footage below with more after the fold.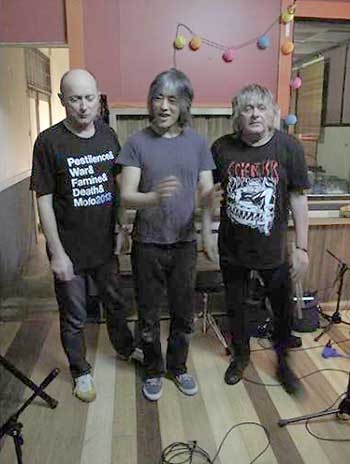 The photo at right is from Ray Ahn's Facebook and show him in rehearsals flanked by Dave Flivk (left) and James Baker.
The trio took the chance to record two Victims songs, "Horror Crash" and "I Wanna Be With You", previously only available on a posthumous Japanese CD.
Rumours persist of a vinyl single and an Australian tour. Fingers crossed.
Tags: punk, perth, television, james, baker, dave, faulkner, victims, flick, ray ahn, addicts