This time Saint Ed is coming to stay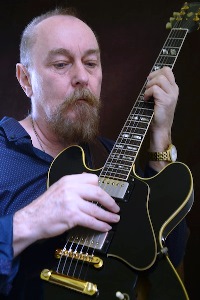 For the better part of 2013-14, Ed Kuepper toured Australia performing his crowd-pleasing 'By Request' show in city centres and regional towns, culminating in a sold-out performance at the City Recital Hall for Sydney Festival with the Sydney Chamber Orchestra.
For his first tour of 2015, Kuepper will defy industry pre-conceptions by performing a set of largely new and as-yet-unrecorded material.
Dubbed the "Nostalgia For The New Tour", the run will include a three-week-mid-week residency in Brisbane, Sydney and Melbourne with spin-off weekend shows in regional areas.

The new material is being workshopped with the intention of recording a new album of all new studio material before the end of the year. Fear not, diehard Saints/Laughing Clowns fans: with each show being upwards of two-hours long and without a support, the sets will include back-catalogue gems.
But wait, that's not all. In between times, the nation's first true Saint has also been busy putting down his first full-length soundtrack for the feature film "Last Cab To Darwin". Directed by Jeremy Sims and starring Michael Caton, Last Cab... will premiere at this year's Sydney Film Festival.
Tickets for all shows on-sale Friday 22nd May.

Tuesday 14 July: Black Bear Lodge, Brisbane
Tickets $22.00 + bf from feelpresents.oztix.com.au, phone 1300 762 545 or in person at all Oztix outlets.

Wednesday 15 July - Factory Theatre, Sydney
Tickets $25.00 + bf from factorytheatre.com.au, phone 9550 3666 or in person at the Enmore Box Office (130 Enmore Road, Newtown)

Thursday 16 July - Northcote Social Club, Melbourne
Tickets $22.00 + bf from www.northcotesocialclub.com or phone 1300 724 86

Friday 17 July - Soundlounge, Gold Coast
Tickets $26.00 + bf from soundlounge.com.au

Saturday 18 July - Green Room, Eumundi
Tickets $30.00 + bf from feelpresents.oztix.com.au, phone 1300 762 545 or in person at all Oztix outlets and the Venue.

Tuesday 21 July - Black Bear Lodge, Brisbane
Tickets $22.00 + bf from feelpresents.oztix.com.au, phone 1300 762 545 or in person at all Oztix outlets.

Wednesday 22 July - Factory Theatre, Sydney
Tickets $25.00 + bf from factorytheatre.com.au, phone 9550 3666 or in person at the Enmore Box Office (130 Enmore Road, Newtown)

Thursday 23 July - Northcote Social Club, Melbourne
Tickets $22.00 + bf from www.northcotesocialclub.com or phone 1300 724 867

Friday 24 July - The Who Club, Victoria
Tickets $50.00 + bf from moshtix.com.au, phone 1300 GET TIX or in person at all Moshtix outlets.

Saturday 25 July - The Who Club, Victoria
Tickets $50.00 + bf from moshtix.com.au, phone 1300 GET TIX or in person at all Moshtix outlets.

Tuesday 28 July - Black Bear Lodge, Brisbane
Tickets $22.00 + bf from feelpresents.oztix.com.au, phone 1300 762 545 or in person at all Oztix outlets.

Wednesday 29 July - Factory Theatre, Sydney
Tickets $25.00 + bf from factorytheatre.com.au, phone 9550 3666 or in person at the Enmore Box Office (130 Enmore Road, Newtown)

Thursday 30 July - Northcote Social Club, Melbourne
Tickets $22.00 + bf from www.northcotesocialclub.com or phone 1300 724 867
Tags: saints, ed kuepper, tour, laughing, clowns