Vale ex-Powder Monkey John Nolan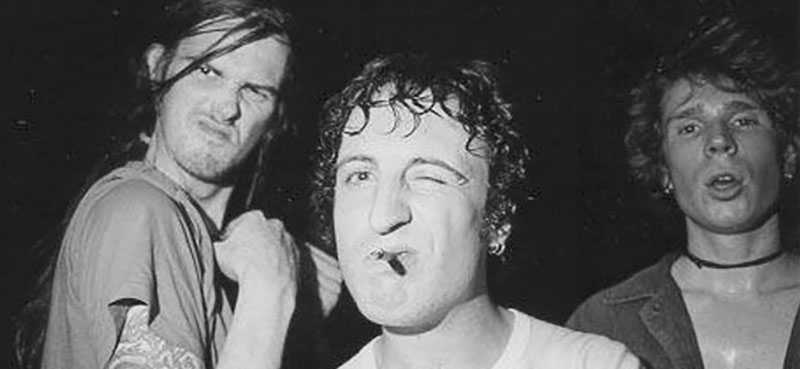 John Nolan (left) with Tim Hemensley and Timmy-Jack Ray in the Powder Monkeys.
John Nolan, the former Powder Monkeys and Bored! guitarist and more recently member of Powerline Sneakers, has died. It is understood a family member found him earlier today in his Melbourne home.
The lanky, long-haired and wickedly talented Nolan was an elder statesman of the Melbourne underground scene. He initially rose to prominence in Geelong band Beyond the Magnolia Curtain in the mid-1980s. and went on to the twin-guitar line-up of Bored!
In 1991, Nolan and Bored! bassist Tim Hemensley (ex-GOD) left Bored! to set up the Powder Monkeys, who became one of Australia's most fearsome - and infamous - outfits.
Nolan suffered a near fatal asthma attack, exacerbated by drug use, in 2001. Hemensley died of a drug overdose in 2003, aged 31.
Nolan recovered from his medical episode and went on to play with the late Spencer P. Jones. More recently, he was playing with ex-Splatterheads vocalist Sly Faulkner, bassist Katie Dixon and drummer Mark Hurst (Yes-Men) in the Powerline Sneakers.
The band went into hiatus during the pandemic when Dixon announced her departure but recorded a killer album, "...disasterpiece".
Tags: powder monkeys, john nolan, tim hemensley, bored!, vale