When one album isn't enough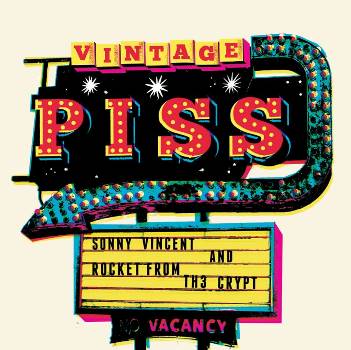 New York City punk original Sonny Vincent is taking to the European touring circuit in support of not one but three albums.
The massive tour of eight countries spans April, May and June and includes three supports to the Dead Kennedys.
Already in the record store racks is "Spiteful" by Sonny Vincent and the Spiteful, whose ranks include Rat Scabies (The Damned), Glen Matlock (Sex Pistols) and Steve Mackay (Iggy and the Stooges.)
Out on Swami Records on March 28 is "Vintage Piss", a woodshedded 2003 studio recording from Sonny, Speedo, ND and Ruby Mars from Rocket From the Crypt, his onetime US touring band.
Hot on its heels is "Psycho Serenades" on Spanish label H-Records, and features members of Rocket From The Crypt, Doc and the Medics and Stiv Bators solo band, as well as the late Scott Asheton.
If that's not enough, there's also a single from Sonny's pre-Testors NYC band, Liquid Diamonds, out on Hozac Records. Tour dates in full after the break.
Sonny Vincent Euro Tour
APRIL
10: D-Essen, Panic Room
11: F-Paris, La Mécanique Ondulatoire
12: F-Bordeaux, Herectic Club
13: F-Perpignan, The BBC Perpinya
14: E-Barcelona, Lupita del Raval
15: E-Madrid, Wurlitzer Ballroom
16: E-Valencia, 16 Toneladas
17: E-Burgos, Estudio 27
18: E-Donostia, Le Bukowski
19: E-Bilbao, Satelite T
21: I-La Spezia, Skaletta Rock Club
22: I-Savignano sul Rubicone, Sidro Club
23: I-Rome, Sinister Noise Club
24: I-Pescara, Queb Club
25: I-Firenze, Tender Club
26: D-Ravensburg, Balthes
27: F-Strasbourg, Mudd Club
28: D-Hannover, Cafe Glocksee
29: D-Hamburg, Hafenklang
30: D-Helgoland, RocknRoll Butterfahrt (sold out)
MAY
02: D-Hanau, Metzgerstrasse
22: D-Hünxe, Ruhrpott Rodeo
JUNE
15: D- Munchen / Strom- with DEAD KENNEDYS
16: D- Berlin / Huxleys- with DEAD KENNEDYS
17:D-Hamburg / Grosse Freiheit- with DEAD KENNEDYS
18: D-Stuttgart, Goldmarks
19: D-München, Glockenbachwerkstatt
20: SI-Ilirska Bistrica, MKNZ
21: A-Vienna, Arena
22: A-Graz, Explosiv
23: CZ-Prague, Modra Vopice
24: CH-Zürich, Helsinki Club
25: D-Jena, Rosenkeller
26: D-Cottbus, Gladhouse (w/ Guitar Gangsters)
27: D-Berlin, Cortina Bob
28: D-Köln, Sonic Ballroom
Tags: scott, asheton, tour, sonny, vincent, testors, rocket from the crypt