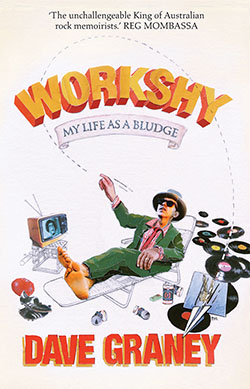 Let's get one thing straight: Musicians do work. It may not be work as we know it, Jim, but it is a form of employment, and it requires a well-defined skillset.
Talent is important but so is patience. Professional musicians do more waiting around than almost any other occupation on Earth. Other than midwives - and at least they receive universal praise.
Solo artist, ex-Moodist and leadr of the White Buffalos, Coral Snakes and more, Dave Graney, knows this about his trade and much more. He conveys much wisdom in "Workshy". It is the ideal read for anyone thinking about sending their offspring into rock and roll. Which is where Dave hides. Pun intended.
"Workshy" is Dave's second autobiography. I know what you're thinking: He might have been crowned King of Australian Pop but where does Graney get off writing TWO books about himself? Well, Billy Thorpe managed to do it. And more of Dave's books might be true. Both men have bodies of work with parts that are wryly funny. I could be referring here to The Aztecs' "The Hoax Is Over". "Workshy" is considerably more focussed than that mess.