Crankees incite violence and we can all sing along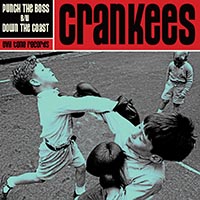 Punch The Boss b/w Down The Coast – The Crankees (Evil Tone)
There's no prospect of a new dawn in Australian industrial relations with sentiment like this going around. Sydney's Crankees express something we've all felt on the A side, a furious little garage punk tune that's fuelled in equal parts by Jimmy Meek's snakey guitar line, Rodney Todd's snarkey vocal and guest Hammond organ from producer Jay Whalley. What do we want? Puglism. When do we want it? Now.
The B side is almost as good, a wry ode to tree changing that keeps it simple and manages to namecheck Mollymook. There's not a hint of garage slop; the band is tighter than the bends in the Princes Highway at Foxground with Meek's guitar again to the fore. The production sounds great. Hopefully, they have an album in them.
Buy a copy here. It's a limited edition. While you're at it, look around and listen to Evil Tone's other stuff. They're putting out some great stuff.




Tags: evil tone records, crankees, punch the boss, down the coast