Dirty Lies 7" - News (Buttercup Records)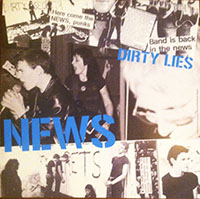 If you were a member of a band who was about to drop off the twig and wanted somebody to preserve your contribution to music for posterity, you'd want the job done by Scotti and John from Buttercup Records.
The boutique vinyl-only label from Victoria, Australia, packages music like nobody else. The latest effort is a seven-inch re-issue of News, the Melbourne band formerly known as Babeez, who neatly straddled the punk rock and art camps of the late '70s. It pairs the 1978 "Dirty Lies" b/w "Chop Chop Chop" single with the previously unreleased "H Division Bash" and a scorching live "Mainline Honey" as a 33rpm EP.
Babeez/News were one of the better Australian bands later labelled with the "Killed By Death" tag. Short, sharp and political, these songs stick it up the establishment in a way that holds up well with age. Energetic and venomous. Sonically speaking, it sounds great, with the ubiquitous Mikey Young in at the mastering stage.
If you know Babeez/News you'll want it - especially after the LP treatment Babeez received from the label a couple of years back - but you'll be spoilt for choice. It comes in five hand-numbered editions of 78 copies, each run in a different colour with alternative covers. My favourite is the spray-painted cloth bag, worked up by ex-Asylum member Marc Welsh.
They all come with stickers, handbills and a flexidisc of an explosive song. "You". Then there's the deluxe, hand-assembled box edition of 20, which packages all five colours with the flexi, inserts and a T-shirt. Scotti and John don't do things by halves. These things don't last long so let the link below take you where you need to go.




1/2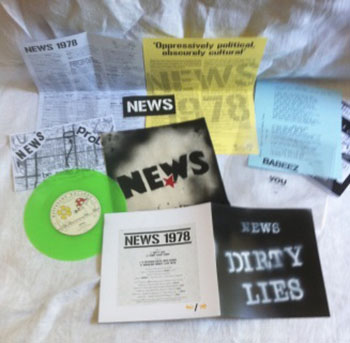 Tags: melbourne, buttercup records, babeez, news