Double dose of pop with sax and sass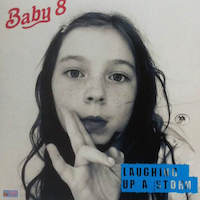 Laughing Up a Storm - Baby 8 b/w Boys In Town - Penny Ikinger (Fantastic Mess Records)
This is a double A sided single from two of the best female-fronted/dominated and/or comprised outfits in Melbourne town.
First to Baby 8 and "Laughing Up a Storm" which is brassy and bold, over-the-top pop. It's immediately appealing with its rambunctious three-part harmonies with sax and trumpet parts kicking up a storm. A lick of synth casts an oddness into the soundscape that befits this vengeance song. There's a sharp lyrical turn that's like the twist of a knife and Kat Karamitros sells the vocal like she means it. Wonderful. Don't cross her.
The late Chrissy Amphlett was a mentor to Penny Ikinger and she brings plenty of conviction and feeling to her cover of Divynils' "Boys in Town". Three guitars give it more crunch than the radio-friendly original single, with Penny's guitar howl leaking through the more conventional attack of Julian Heid and Sam Billinghurst-Walsh. Not content to sound just like the original, Penny and Co have bent the song out of shape, just so.
It's the usual Fantastic Mess run of other clear-spattered or ruby red vinyl in a limited pressing. Grab it here.




1/2 - both
Tags: penny ikinger, baby 8, fantastic mess, chrissy amphlett, laughing up a storm, boys in town