Howlin' Threads ask: Do ya think I'm saxy?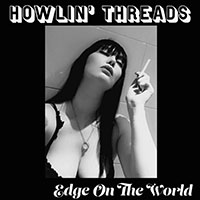 Edge On The World b/w Red Line - Howlin' Threads (Mineshaft Records)
The Howlin' Threads wear their collective influences on their sleeves but it's the A side of this, the follow-up to their debut EP, that finds them pushing the stylistic boat out.
Summoned to life by Adam Bowler's toms, "Edge On The World" recalls the Iggy and James of "Kill City" - or even an early Died Pretty - in its sonic approach, deploying some expansive saxophone from guest Noah Hampson to mix things up. Guitarist Dylan Webster rides a wave of wah wah pedal with a keyboard wash fattening the sound.The B side is more straight-forward and rocks along nicely.
Mark Hunstone recorded it with veteran sideman Bruce Callaway (Ed Kuepper, Saints and the first studio version of the New Christs) mastering it. Score a copy at the band's Bandcamp.
Tags: howlin 'threads, edge on the world , mineshaft records