Lick My Wounds/Firestorm – SC/TC (self released)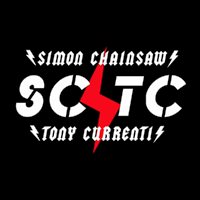 Never became obsessed with that Oz Rock thump-clomp beat to the same extent as many, if not most, around me, but there's no denying the global impact of the Alberts sound. This two-song CD single contains primo examples of the same, courtesy of the ubiquitous Simon Chainsaw ("SC") and his new partner in rawk, Tony Currenti ("TC").
For those about to confess ignorance, Tony Currenti was the session drummer on AC/DC's seminal "High Voltage" and on hits for Stevie Wright ("Black Eyed Bruiser") and, um, John Paul Young ("I Hate The Music".) He would have joined Acca-Dacca fulltime, too, but for the facts he already had a band and touring on the back of his Italian citizenship would have exposed him to that country's military draft.
Tony owns a Sydney pizza shop (Torino's at Penshurst) and plays on occasional AC/DC tribute bills. Globe-trotting Simon Chainsaw has relocated from Brazil to Australia and roped in Currenti for recordings and live shows over a chianti and Pizza Margherita. The result is a combo of that trademark Chainsaw punk-pop roar and good ol' fashioned Oz Rock.
Currenti's not big on dramatic fills but drives his big Ludwig kit (the same one he played for Acca Dacca) like a reliable old bus. He fairly nails the feel to the floor on the OK rocker, "Lick My Wounds", but the second song is where it all comes together. "Firestorm" is wall-to-wall guitars with a seriously solid beat and a rocking hook. The drums were produced by Mark Scully (ex-Ratcat, Deadly Hume) and sound ace. It's a free download here or use the link on the Bandcasmp page to ask Simon for a physical copy.





1/2
Tags: simon chainsaw, tony currenti