New 45 recaptures the Groovies' glory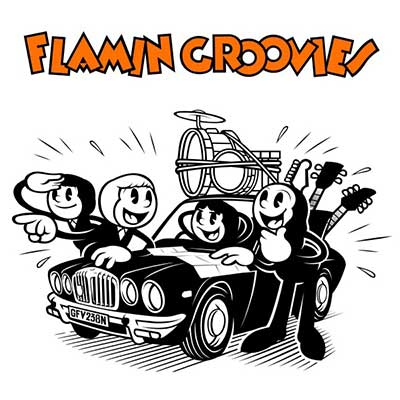 As the Flamin' Groovies celebrate 50 years with a special gig in San Francisco this week, DAVE "DOG MEAT" LAING checks out their new single vinyl seven-inch, "Crazy Macy" b/w "Let Me Rock"...

Okay, so the Flamin' Groovies have a new single out for Record Store Day, on the very cool Californian Burger Records label. This is exciting stuff – even more exciting than walking into my first Groovies show on the '86 Australian tour, seeing they had a new single ("Way Over My Head' b/w 'Shakin'') for sale, and buying five copies of it because I never knew if I'd see it again.
That was what, maybe five or six years since their previous release, the "River Deep Mountain High" single? This one comes more than 25 years since we've heard anything new from the band – a long fucking time.

Of course the Groovies, with '71-'80 lead singer Chris Wilson back in place, have been back in action since the second-last Dig It Up! Festival in Australia a few years back.
While we Down Under may have copped them a tad underdone (the Caravan Club show on Melbourne was sensational though), a look at more recent YouTube footage shows the band firing on all cylinders and sounding very much like they must've live in '75 or so, on the cusp of releasing the landmark "Shake Some Action" LP.
So, is this new single any good? Yes it is. Indeed, it's great. "Crazy Macy" is an odd track – for all the hoo-ha about Chris Wilson being back in the band (a fact worthy of more hoo-ha than you can imagine), Cyril sings the bulk of it and it actually sounds more like a song that the Roy Loney line up of the band would have done. Or maybe like their "Now" album with a Loney-esque edge.
It's got a bit of a '50s vibe, and the instrumentation is pure Groovies thunder. In fact it would slot in well next to 'Yeah My Baby' on the aforementioned 'Now' album now that I think about it. That album is perhaps the finest testament to Cyril Jordan's guitar sound - which is THE GREATEST THING in all of rock'n'roll - and this recording captures the gravitas and depth of that sound perfectly. As a song it's a fun goof; as three minutes of rock'n'roll, it's prime.

And the flip is even better. I've been waiting for this for 35 years or so, even since I first laid my ears of the Groovies' incredible home-recorded "Grease" EP. That EP included "Dog Meat" and the definitive "Slow Death" but "Let Me Rock'"was always my fave.
It was apparently the first song Cyril and Chris ever wrote together in '71, it's an anthem among anthems. "You took my soul/but you'll never take my rock'n'roll'" says everything about how much this music means. And whilst the original blood raw recording is INCREDIBLE , I've always regretted that the band never revisited it in the studio. If only so I could hear the rest of the lyrics better.
Well, now they've done it. And it is also incredible. They've put a little backing vocal bit in the chorus that maybe hinders the flat out desperation of it, but really, it's 1000 percent times better than it has any right to be, 45 years after it was first written.
What was a young man's blues now takes on the soul of time-wearied veterans still intent on giving it their all. Chris Wilson pours it all out and nails it, and his licks counterpoint Cyril's beautifully . And the rhythms section is as hard and solid as granite. (George Alexander on bass is an all-time great; the new kid Victor Penalosa on drums fills Danny Mihm's massive shoes admirably).
This is the Groovies at their most Stonesesque – the song has always been very much in a late '60s/early '70s Stones style - but there's something more grounded, more human about the Groovies than there is or was in the Stones, even back in the day. More fallible – and thus more heroic, because the Groovies can define looseness at times – but with more hunger, more joy, more fun. This record – both sides – captures all that - and the fact that the Groovies also have a whole new album in the can is the most thrilling news of all.

So, God bless Dave Faulkner and the Hoodoo Gurus and Tim Pitman/Dig It Up for bringing us back the Groovies, God bless Burger Records for bringing us this fantastic release, and God bless the fantastic Flamin' Groovies for being so fucking great.
Tags: Flamin', crazy macy, let me rock, burger records, chris wilson, cyril jordan, roy loney, george alexander, victor penalosa