Night Creature b/w Roll Over Lay Down - Deathwish (Fantastic Mess)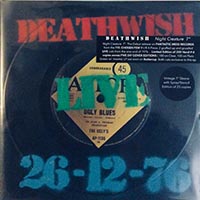 It's a single by Deathwish, precursors of The Chosen Few (the Aussie punks - not Ron Asheton's early band) on new label Fantastic Mess, an independent spin-off of Buttercup Records. This recording is liver than you'll ever be, both sides from a gig in a hall in country Victoria in December 1976.
"Night Creature" is light on for lyrics but well-refined in its proto-punk intent; future Chosen Few engine room of Cal McAlpine (drums) and Ian Cunningham (bass) lock into a serious groove. The song hinges on a repeated guitar figure and sounds like Link Wray on Melbourne Bitter.
Status Quo never rowed my boat even before they sold out to the Red Right Hand of an Australian retail giant, but Deathwish's faithful rendition of what was then a Top 40 hit once more underlines that the considrable punch The Chosen Few packed didn't develop overnight.
Of course this one won't last long and naturally it comes in five editions. Drop Scotti a line at his label's online HQ to procure.

1/2
Tags: deathwish, the chosen few, night creature, fantastic mess