Part Time b/w The Day That Cribb & Munday Got Away - Dave Favours & The Roadside Ashes (Stanley Records)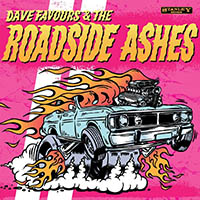 Dave Favours & The Roadside Ashes is a Sydney band that plays both sorts music - Country and Western - whose debut single recalls T Tex Edwards, the maverick punk-country artist from Dallas, Texas.
Band leader Dave Favours used to be in The Delivery and has been at this alt.country thing a while. Like T. Tex, Favours has an appreciation for country's less-travelled roads and a bit of punk in his background.
"Part Time" has a laconic, resigned feel, with pedal steel bleeding through the lyrics about demons, deep inside, and drinking. Dave Hatt (bass) and Simon Li sit in the pocket nicely.
The flip is a slightly more up-tempo, jailbreak song but Bon's nowhere to be heard. It's about a triple murderer named Cribb and an armed robber called Munday who broke out of an Australian lock-up for the criminally insane and went on on a rape and robbery crime spree.
The song's played straight, with a thin harmonica solo and a Saturday arvo, drinking groove. Michael Carpenter contributes an organ wash that fills out the sound. I'm not crazy about alt.country unless I'm in the mood, but this is better than alright. Available as a vinyl single or download.





1/2
Tags: dave favours, stanley records