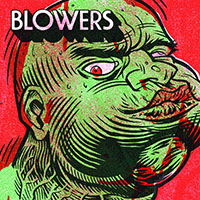 Blowers – Blowers (Spooky Records)
There was a moment during last year's Victorian lockdown, probably early September when shit was at its worst. The bleakness of the climate - cold, grey and crappy, in the way that Melbourne does it - matched the desolation of public spirit, provoking in me a desire for old school punk rock attitude and resistance.
Not resistance in the form of conspiratorial wingnuttery nor the specious proclamations of human rights and freedom imported from a dying empire, but just anything resembling a deviation from the obsequious adherence, self-adorned piety and moronic retributive attitude which seemed to have descended upon the state.
Sitting out in my shed one Saturday night I decided to play the angriest records I could find in my collection – Bikini Kill, Dead Kennedys, Bits of Shit, DOA,Kill Rock Stars compilations, Crush, X. It didn't make any difference, really, but it was cathartic and energising.