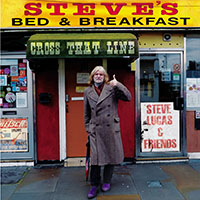 Cross That Line – Steve Lucas and The Rising Tide (Aztec Music)
Steve Lucas, last man standing from Australia's mighty underground legends X who, back in the day, I expect would have thought of themselves as a powerful rock band. Live, no-one would want to follow them... and like The Saints and even Radio Birdman, they got called "punk" anyway. Pigeon-holing is for pigeons and gugs. I'd love to have been able to see X and Rose Tattoo in the same week.
Like many veterans of the music industry, Lucas has an unavoidable musical legacy. Which I expect can be both a blessing and a curse. So, for those expecting X Mark 32 and won't take no for an answer... "Cross That Line" ain't for you. I always thought 'punk' was a state of mind about expressing the individual, not everyone wearing the same uniform and going to the same gigs. My approval or t'otherwise of any record is irrelevant, no matter what the genre. Remember, I'm a big fan of (among others) Gzutt, Peg Leg Sam, Thelonious Monk and Jon Wayne.