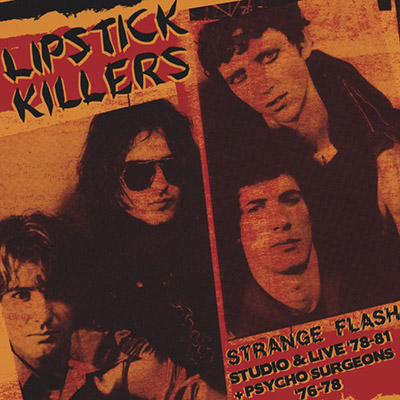 The long-awaited anthology of material by Australia's legendary Lipstick Killers finally arrives on CD and LP on Grown Up Wrong! Records on June 25.
"Strange Flash – Studio & Live '78-'81" as a double-LP will include the original 1979 "Hindu Gods of Love"/"Shakedown USA" single, the posthumous "Sockman/Pensioner Pie' 45 plus additional studio masters from the same '78 session; an unreleased album-length 1980 demo session recorded by Australian guitar god Lobby Loyde; and the near-complete LA show that comprised the original live album "Mesmeriser".
The "Mesmeriser" tracks will add additional tunes and subtract a couple that one band member wasn't happy with.The set features liner notes by Ugly Things contributor and Grown Up Wrong! Records' Dave Laing, some killer pix and flyers and repro's of the stunning Lipstick Killers posters designed by highly collectable Sydney poster artist John Foy, and a piece by Byron Coley.
The LPs will be a run of 500 copies on orange vinyl an 500 on black.
The double-CD includes adds a near complete live show recorded in Adelaide in 1978, some of which was released on a handmade cassette by members of the band in the mid-'80s, and a couple of the tracks of which appeared on a very limited run 45 also released by the band in later years. But a good chunk of it has never been heard - and it is wild.