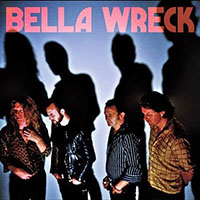 This re-issued gem on Polish label Heavy Medication is by a band led by an Australian expatriate based in Germany. It was originally released in Europe on vinyl in 2014 and it's odd-on that if you weren't in the know back then and you come from outside Europe, you probably wouldn't have noticed.
Dave Thomas is the Australian vocalist and guitarist in Bella Wreck and, no, he's not the Dave Thomas from Geetroit legends Bored! For one, he's about a metre taller. He also has strawberry blond hair down to his arse.
This Dave Thomas lived colourfully for a while in New York City and was a member of Sydney bands Flame Boa and The Crisps. The Crisps included Hoody from The Johnnys and Stuart Wilson (New Christs and Lime Spiders) on drums.