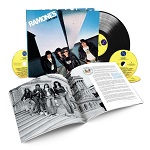 Contest the claim if you like, but there isn't a better Ramones album than "Leave Home", their second long-player.
Yes, the debut was retrospectively ground-breaking and a beacon for rock and roll's shift back-to-basics, but "Leave Home" surely should have been the point where "punk" (at least as America knew it) crossed the line, converting from Cult Curiosity to Mainstream Soundtrack.
High-tensile guitars, off-colour humour, melodies and energy live large within its groove. Bubblegum, doo-wop, pop and rock bundled into the perfect musical package, married to an image of teen rebellion, leather jackets and shades. What the fuck is there not to love?