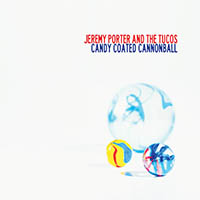 Candy Coated Cannonball – Jeremy Porter and the Tucos (GTG Records)
Detroit Rock was never just about the MC5and the Stooges. Ask a Michigan native and they're just as likely to nominate Kid Rock or techno as defining. Don't even start anyone aged over 50 talking about Motown and the myriad of soul labels that sprang up in the '60s.
Jeremy Porter and the Tucossound like none of the above. With origins in the city's punk underground, the trio's sound is a mix of power-pop, roots rock, alt-country and twangy blue collar garage. The title of their fourth album, "Candy Coated Cannonball", is a misnomer – the album's neither overwhelmingly sticky-sweet or explosive.
"Put You On Hold" is a super opener, a heady burst of gritty guitar, warm Hammond B3 and Porter's emphatic vocal. It's a rocking song and a juxtaposition, of sorts, that's apparent in a lyric like: "Time flies by when the conversation is slow."