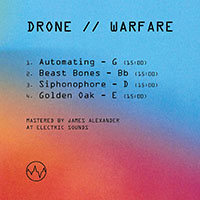 "Drone Warfare" (Iceage Productions)
Which is the band and which is the title? No idea. Doesn't matter, either.
Actually, the EP-thing is four tracks by four different Melbourne artists. The Bandcamp page says so, so it must be true. But none of the artists' names appear, which reminds me a little of the fake dance LP by the Silicon Teens (aka Daniel Miller of Mute Records fame). So, is this another bunch of guises behind which the head honcho of Iceage lurks?
I have no idea, and it simply doesn't matter.
Just quickly, you can't really dance to this, not unless you're out of it. You shouldn't try. Shove the volume up and lie on the floor and you'll be taken away to somewhere entirely different.