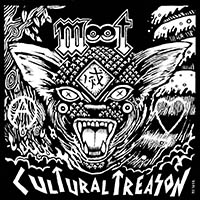 Cultural Treason - Moot (Riot Records)
The sleepy resort town of Forster on the New South Wales Mid Coast might be an unlikely place to find a punk band, but never forget that Jello Biafra grew up as Stanley Boucher in nondescript Boulder, Colorado. Moot have a little Jello in the musical DNA on their debut EP - plus a whole lot more.
It's said mainstream Americans don't "get" sarcasm. Aussies do and Moot is dripping in the stuff. "Fake News" is a blast of bile with lots of dynamics, directed at you-know-who. "I Hate Hippies" channels a show at The Grand Hotel in Sydney in 1980 with its nod to Johnny Dole and the Scabs and is a punked-up attack on hipsters. Simple and simply effective.