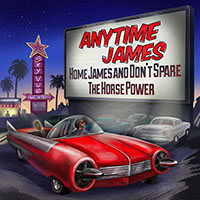 Home, James And Don't Spare the Horse Power - Anytime James (self released)
The dictionary defines "raunch" as "energetic earthiness; vulgarity", and the second album from Anytime James has it in bucketloads.
Anytime Who? Read on.
Anytime James is an outfit of musicians from the Far North Coast of New South Wales, assembled and led by former Asteroid B612 guitarist Michael Gibbons. At the risk of (more) accusations of hype, let's toss caution to the metaphorical breeze and say Anytime James might be the best band you've never heard of. Here's why.