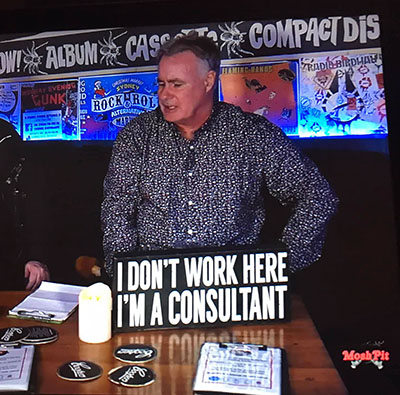 THE BARMAN
I-94 Bar barkeep
Sydney, Australia
"Monday Evening Gunk"
My favourite thing to do on a Monday night. Props to Jill, Wax, Pat and Sonjaat MoshPit, News and Brews co-pilot Rossy, tech-head Zac, photographer/chronicler of choice Shona Ross, and the many guests and hosts involved. My original Top Ten was going to be a chronological list of Gunk episodes because it would be like picking a favourite child.
"Goose Lake" – The Stooges (Third Man Records)
What a fucking trip.
"If This Is The Hand I'm Dealt" and "I'm Gonna Cheat As Much As I Can" solo albums by Peter Black
Got to these very late in 2020 and the Hard-Ons and Nunchukka Superfly guitarist just goes from strength-to-strength with his quirky, catchy and compelling solo work. One acoustic, one electric. Get a full hand.