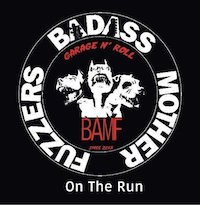 On The Run - Badass Mother Fuzzers (6tone Records)
"On The Run" is a relentless barrage of garage fuzz. Like a carpet bombing squadron of B52s heading out on a mission over Cambodia, the record moves into formation, sweeps over its target and drops its payload.
Badass Mother Fuzzers hail from Toulouse in France and have a single-minded devotion to the task at hand - hitting listeners and audiences in the face with a sonic baseball bat. The Swedes didn't monopolise this stuff.