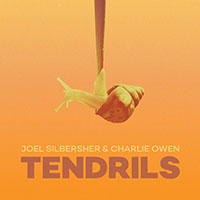 As ethereal and otherworldly as when it came out on CD in 1995, "Tendrils" continues to defy easy categorisation on LP.
It was the first album for the pairing of Joel Silbersher (Hoss, GOD et al) and Charlie Owen (New Christs, Beasts of Bourbon and, again, many more) and married seemingly disparate guitar approaches to restrained vocals against an background of minimal percussion.
By then, Joel and Charlie were two of the so-called underground's best-known players. Owen was - and still is - a consummate guitar player's player and had had national success with the Beasts; Silbersher was the diminutive and cocky ex-GOD rocker whose current band, Hoss, seemed poised for much bigger things. He should be internationally lauded to thsi day. Putting them together in a studio was always going to produce something interesting.