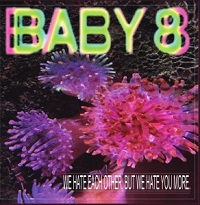 Melbourne's Baby 8 has delivered a smashing album full of songs about drinking, drugging and horrific nights out. It cuts straight to the bone. No love songs here, folks; just pure "boobs-to-the-wall" rock 'n' roll with some punk-pop thrown in.
"We Hate Each Other But We Hate You More" just kicks from the first track, "Nights Want to Kill", which is the single. And what a cracker song it is.
Rachel Lendvay (vocals) shines throughout. Katie Dixon (Powder Line Sneakers) on guitar, Maureen Gearon (NQR) on bass with Matty Whittle (ex-GOD) on drums round out this powerful rock band.