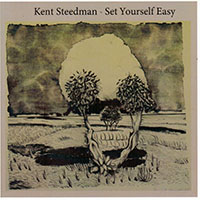 Set Yourself Easy – Kent Steedman (self released)
Adjust your expectations. This is not a collection of Celibate Rifles-styled pyrotechnics -although some (notably, "Lockdown Shuffle" and the title track) could have worked for them.
Anyone who's been paying attention knows that Kent Steedman has never been just about flamethrower rock. His work outside the Rifles has spanned the oblique, avant noise of Crent, the proto-boogie blues of Jim Moginie and the Family Dog, sonic adventurism with the Deniz Tek Group and live shows using Tibetan singing bowls.