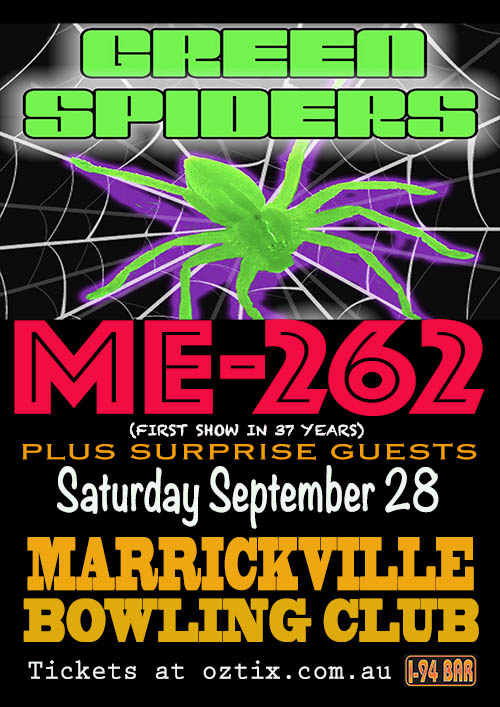 It's a bill to have fans of lysergic acid punk or Sydney-via-Detroit Funhouse jams reaching into the cupboard for their leather jackets and Cuban heeled boots, when the Green Spiders pair with the long, lost ME-262 for one gig only at Marrickville Bowling Club on September 28.
The Green Spiders come from the DNA of the Lime Spiders, Adolphus and The Most – all staples of the Strawberry Hills-Sydney Trade Union Club circuit in Sydney in the early '80s. They play the songs of the Lime Spiders that Green Spiders members penned.
Lime Spiders members Ged Corben (guitar), Tony Bambach (bass) and Tom Corben (drums) are joined by Ripley Hood (Mushroom Planet) on vocals to deliver a potent parade of hard rock and '60s punk gems.
Some 37 years after they last strode a Sydney stage, ME-262 are reforming to play this one show.
Comprising teenagers Mark Roxburgh, Andy Newman, Tony Gibson (one of the best guitarists of the era) and drummer Alan Marr, ME-262 (also known as Trans 262 and not to be confused with MEO-245) could be seen regularly around inner-city Sydney in the post-Radio Birdman years of 1979-82.
Heavily influenced by Birdman and The Visitors they played support spots to Sunnyboys, New Race and dozens of others. issuing an EP before fading away to form, or join, other bands like Decline of the Reptiles, Chris Masuak's North 40, the Visitors and the Deniz Tek Group.

This show will draw from the band's posthumous 2017 compilation "Original 7" Tracks/Demos" on boutique label Buttercup, which comprised their EP tracks and other songs drawn from a recording session with Rob Younger.
Th Green Spiders and ME-262 will be joined by a mystery band drawn form a range of bands from the Sydney underground of the late '80s and '90s. Tickets are on sale hereat a special early bird price.