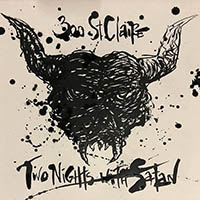 Yes, 300 St Claire were another of those noisy, intense and hard-as-a-cheap-pub-steak bands that were around in a crowded Sydney backyard at the cusp of the 2000s and never made a substantial mark anywhere else. They self-released an EP, gigged around and more or less fell off the radar before the decade was half-done.
My own memories include taking away tinnitus from a support they played to Asteroid B612 at the Iron Duke in Sydney one Friday night. By the time Johnny Casino and Co came on, the damage had been done, and every note The Big Fella played fell on ringing ears.
As is the way these days, 300 St Claire has reformed - to have fun and sink a few beers, the members will tell you - so now is a good time for their long, lost EP to resurface on Conquest of Noise, complete with extras. It's every bit as bludgeoning as you'd expect.