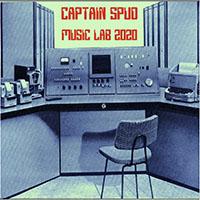 Music Lab 2020 - Captain Spud (self released)
As you may gather, "Captain Spud" is a pseudonym.
No way the bishop held up that squalling, red-faced brat, smacked it's ugly arse and plunged it face-first into the font, intoning: "I christen thee Captain Spud". Kid might've drowned, for starters. Awkward questions might have ensued. Simply hours of paperwork. Remember, pop kids, if you're going to go into the Catholic faith, don't drown the little shits. More trouble than the brief pleasure it might give.
Speaking of starters orders, I find in a cursory search for the great man from Adelaide (he's been a musician and music-maker for over 40 years) references to a blogger ("Captain Spud is Amazing" - I'm sure he is, hem-hem), several YouTube channels (including a chap who paints little dolls, and a chap blowing stuff up on a vidgame), a pseudonym for a gamer (still not the great man) and would you believe - a racehorse ("a three-year-old gelding by Toronado out of the Street Sense mare, Dane Sense") once owned by Danny Frawley (a kicker of balls, apparently).