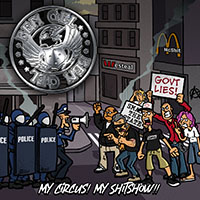 My Circus! My Shitshow!! - Ben Gel (Ben Gel)
You're gonna love this one. It's kicking, rampaging, no-holds-barred, pounding rock'n'roll.
I've written about Ben Gel before. He's a no-nonsense, hammer-down-the-line bass player (currently playing in Perdition and Cull-The Band) and guitarist... in his own outfit. On "My Circus! My Shitshow!!' he plays lead and rhythm guitars, bass and handles lead and backing vocals. Chris Charlton also handles lead and rhythm guitars, and Nick Hadley is on the kit.
Geez, I'd love to see this lot live. It looks like the drums were recorded in Camden Town, UK, and the rest in Rosewater, South Australia. How the fuck this ended up sounding so damn tight I have no idea. Loads of talent and patience, I assume.