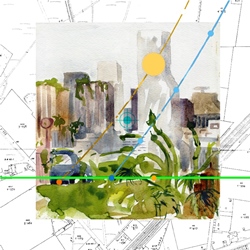 Ex-Saints and Laughing Clowns trailblazer Ed Kuepper's 50th (!) album "Lost Cities" is on its way and available for pre-order.
"Lost Cities'' will be released on December 20 on CD only and we reckon it would be the ideal Xmas gift. You can place your order with Ed's own Prince Melon Records webmaster James Last here.

Copies purchased before the official release date will be personally signed by Ed and cover artist Judi Dransfield Kuepper.
The album features nine new songs recorded in August following the successful Nostalgia for the New Australian mini-tour by Ed. Titles are ''Pavane'', ''Friends with the Leader'', "Free passage to Mars'' ''[It's] Never too Late'', ''The Ruins'', ''Fever Dream'', ''What can I leave you'', ''Some said....'' ''Queen of the Vale [that's V.A.L.E]''.