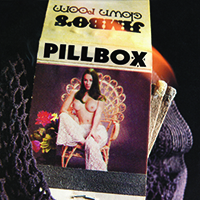 Jimbo's Clown Room - Pillbox (Yeah Right Records)
"I've been sold, been passed around, been abandoned when I was down..." - Chris Barry
The best record of the '90s is finally released on old time, rock 'n' roll, vintage style, black wax - I guess Rich Jones from MM and Black Halos had sumpthin' ta do with it being re-released on vinyl - so high fives and thumbs up, and please everyone do buy a round for Rich Jwhen ya see 'im at the big rock show.
This sleek, snazzy version of the exemplary "Clown Room" even comes with a cuppla bonus (!!!) Pillboxtracks you're all gonna love, the seldom heard, "Come Back To The Planet" and "Down In Style", and a splendidly insightful LYRIC SHEET. I thought I knew all the words by heart, but some are even better than I remembered-dude's an underrated writer, as you'll see upon reading both the words to his songs and his liner notes that come with the record.
In addition, there's a beautiful gatefold sleeve collage of old Pillbox live rock shots, and all your favorite songs like, "Sinister Urge", "Holly", "Get Hip" (my main jam since I was like 23 or somethin') , and "Come Up Heroin"!