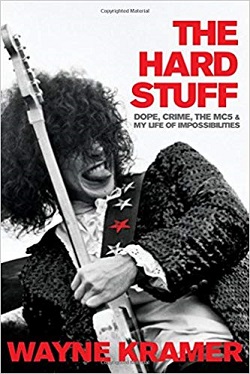 It's a truism that stated fact sits at one end of the scale and fiction at the other, with the truth lying somewhere in-between. Ex-MC5 guitarist Wayne Kramer has been a divisive figure at times - the stillborn "A True Testimonial" documentary, anyone? - so parts of his story will be disputed by some.
Ultimately, though, it's pointless buying into all that. "The Hard Stuff" is Kramer's own story and it's told from his own perspective. None of the other people still standing are offering alternative perspectives (although the posthumous autobiography from bandmate Mike Davis is out there, too.) On its merits, "The Hard Stuff" is a rollicking read with only a few stones left unturned.
The plotline for dummies: Kramer's the working class Detroit kid from a broken family who shook off the handicap of an abusive stepfather and forged his own musical way. He was a founding member of the radical chic MC5 and remains a compellingly lyrical guitar player who's influenced countless others.
"The Hard Stuff" takes us through the rise and fall of the 5, Kramer's slide into crime, his imprisonment for drug dealing, ongoing battles with booze and smack, career revival and personal redemption through hard work and love.