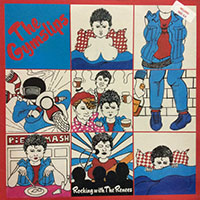 Rocking with the Renees – The Gymslips (Optic Nerve)
If East London's The Gymslips swapped warm beer for weak cat's piss and pretended to be in high school would they have presaged The Donnas? The English all-girl band (that'd be The Gymslips) haven't been active since 1985 so it's a moot point, as they say in philosophy texts.
This re-release of the Gymslips' 1983 bubblegum punk debut LP brings a lot of froth and fun to the table. If you hadn't worked that out by the first verse of openenign song "Renees" with its lyric "We're the Renees/Here we come/1-2-3 and up your bum" you're probably not trying.
"Rocking With The Renees" includes their debut single (a faithful cover of Suzie Quatro's "48 Crash") and 14 other tracks, one of them enigmatically listed as "Untitled". There another four available on a vinyl EP, "Silly Egg".