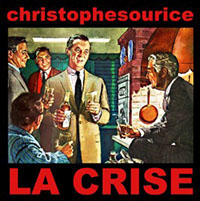 It's a vinyl and CD single from the former drummer for French band The Thugs and it doesn't muck around. Christopher Sourice sings in French but don't let that stop you if you're mono-lingual.
"La Crise" ("the crisis") is built on chugging guitars, vamping keys and a dense rhythmic backbone. It's like a "Too Tough To Die" Ramones song with the foot off the accelerator. Repetitive but powerful stuff with Sourice's urgent vocal leading the charge
The flip side reminds me of The Trilobites in their "Venus In Leather" days of the early '80s (it must be that chorus) and once more it's a song driven by chunky guitars, a heavy pop feel and a keyboards wash. Who says drummers should stay behind their kit? That's a Bandcamp below so you can try before you buy.





3/4

Buy it