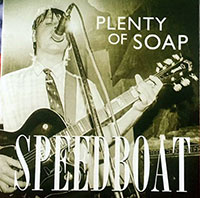 If you enjoyed the Laughing Clowns and their slightly wonky, soaring horns, and which Hunnas later wielded to equally great effect, you're in for a treat. Speedboat (from Adelaide) supported both bands and, I can attest, to great effect. While LC and H&C certainly influenced Speedboat, one wonders if the influence was all one-way.
If you don't know Speedboat, what they were about came from many unlikely sources (their name apparently springs from an Elvis movie), and I'm not giving away the joy of Tom Stehlik's liner notes).
Liner notes? Do Speedboat rate that?
By fuck they do. 'Plenty of Soap' holds the equivalent of four LPs plus a fistful of singles and b-sides, Stehlik's liner notes actually tell the story of the band. Frankly, most bands - especially a band held in such high regard as Speedboat (and all without a recording contract) - fuck up entirely.