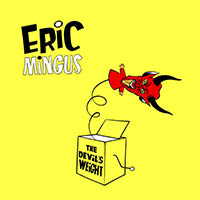 The Devil's Weight - Eric Mingus (Ouch! Records)
I first saw Eric Mingus on stage at Her Majesty's Theatre in Adelaide a few years ago, masterminding (with producer Hal Willner) a production of The Who's 'Tommy'... which I confess I didn't expect to work. But, not only did it work, it took my breath away.
If you don't feel like reading the full review, on the night I described Eric on the night as an "offhand, casual narrator with a fabulous, rich voice with a gobsmacking range who sets us up for a mischievous, powerful story, more human because it's all happening right in front of us. What for some was a rather stilted and peculiar concept LP has become an alive, twisting, emotional creature; the story is instantly in us. His later (all too brief) scat singing is incredible, just amazing".